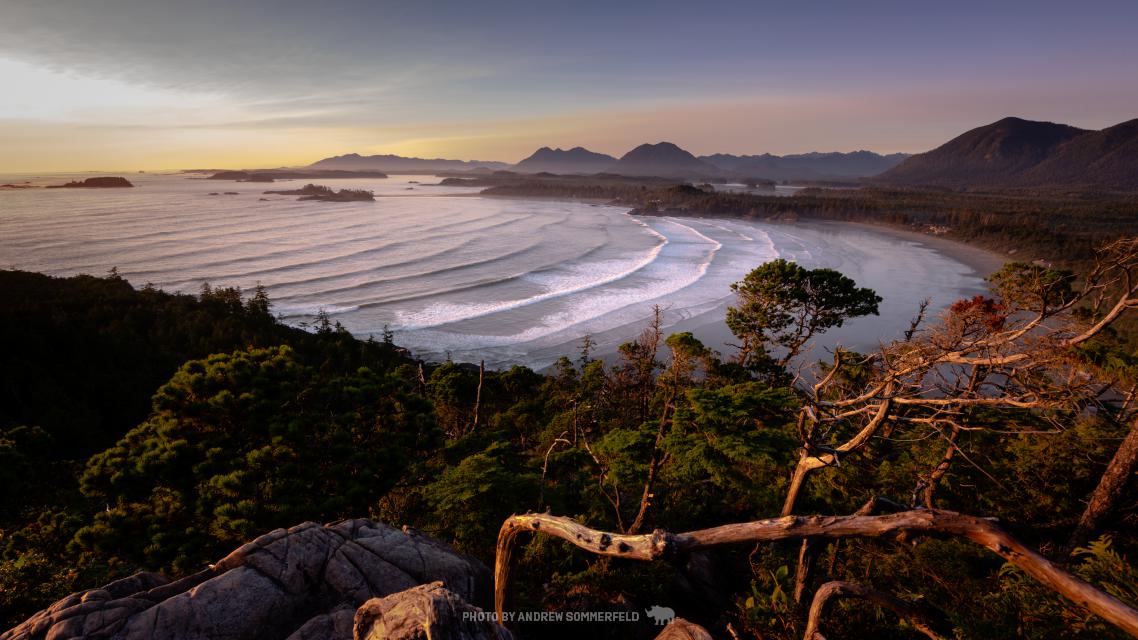 Good Evening, Cox Bay
Taken on September 29, 2020
|
Tofino, BC
A 30 minute rooty, muddy climb led to this awesome view of Cox Bay.

 My boots only finished drying out three days later... after a deliberate mud-cleansing walk into the waves post-descent.
Read More
Prints
Getting into position for this shot was a fun time. At one end of Cox Beach, there's an overlook that one can climb up to. It's moderately difficult, even requiring the use of some thoughtfully placed ropes at one point. Very muddy, very rooty, very muddy.
Did I mention it was muddy?
Anyhow, once up on the viewpoint, I got comfortable and waited for sunset. The overlook spot is apparently quite popular, as I'd guess about 10 other people moved through the area while I was there. I chatted with a few people while waiting on the light, including a couple of locals. We talked about COVID-19, and how nearby Tofino was affected. I expected to hear stories like in Vancouver, of restaurants shutting down and so on, but apparently this past summer of 2020 was one of the busiest in years. Ucluelet and Tofino proved to be popular destinations for a lot of BC residents, due to travel restrictions.
The shot itself... while I'm happy with how this shot turned out, it could have been so much better. Unfortunately, at some point during my wait for good light, I must have bumped my camera, as all of the shots that I got with much deeper colours were completely out of focus. Whaddyagonnado?
Finally, after descending post-sunset, I made the impulsive decision to simply walk into the ocean waves to get the mud off my boots, Did I mention it was muddy? While this was a fantastic sensation at the time, my boots remained damp for the remainder of the trip, which was unfortunate.